* Mentioned prices may vary depending upon date of travel, hotel availability, surge pricing and seasonal rush.
Sandakphu,, Lepchajagat and Tumling Tour Overview
About Sandakphu: Sandakphu is an amazing destination at the edge of Singalila National Park in West Bengal, near the Indo-Nepal border. The peak is the highest point of the state of West Bengal. Sandakphu used to be a trekkers paradise now it is fast gaining popularity among common travelers too. With the new roads being constructed till Gairibas which is almost half of the Sandakphu trek, it is becoming more accessible. We believe with more and more tourists coming in Sandakphu stands to gain a lot more popularity across the country. It is not easy to ignore what's on offer from nature here. The small hamlet of Sandakphu actually stays above the normal clouds level. This is why Sandakphu offers uninhibited sighting of 4 top Peaks in the world, almost throughout the year. One can experience the magnificent broad range of snow-capped peaks. In between Mt. Lhotse( 8516 m) and Makalu (8463m), the fourth and fifth highest peaks, we can see Mount Everest (8848 m) in the full glory. On the other side, we can see a congregation of smaller peaks with Mount Kanchenjunga (8586m), the third highest peak in the world. The mountain formation is famous as "Sleeping Buddha" as the appearance resembles the head, face, upper body, and feet of the sage Lord Buddha. The blue sky and the green forests topped with snow-covered mountains and freezing weather create a surrealistic atmosphere here. This small hamlet was always a beautiful spot, but lesser known in the British period. Since that time, the road was the sole connection with the outer world. There were tea gardens around this place and the planters used Land Rover cars to go in the hilly terrains since 1930.
About Dhotrey: Dhotrey is a small Himalayan village located within the buffer zone of Singalila National Park in Darjeeling district of West Bengal. It is belonging to Eastern Himalaya and situated at 8500 ft. above sea level, distance from Darjeeling only 11 kms. At present trekkers and nature lovers can stay in this model village.
About Srikhola: Srikhola is a small scenic village located about 87 Km from Darjeeling town. It takes about 4-5 hours tiring journey from Darjeeling. Srikhola is amidst Magnolia, Chestnuts, Oaks, Birches, Pines and Rhododendrons is Srikhola or Sirikhola. Srikhola is situated on the foothills of Singalila National Park beside Srikhola River. It is, in fact, the last and the farthest polling station of the Darjeeling constituency. The nearest town is Rimbik, which is 8 Kms from the place, Rimbik itself is a least populated, small town with few shops and some houses, but most of the surrounding villages depend on this little town for their household commodities. Enjoy the river with your beloved ones or alone to find yourself amidst nature. Visit the hanging wooden bridge of Srikhola. Enjoy the mesmerising landscape or else spent time engaging yourself in fishing Trouts.
Sandakphu,, Lepchajagat and Tumling Tour Itinerary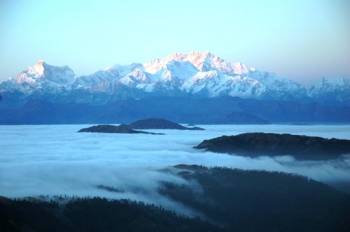 After breakfast drop to Manebhanjyang by 01 Reseeved Sumo/Bolero/Similar. Proceed upto Sandakphu by 01 Reserved Land rover Association's Car via Chitre, Maghma, Lamaydhura, Tonglu (10,150 ft.), Tumling (9,600 ft.), Gairibas, Kalapokhri (10,400 ft.) and Bikheybhanjyang (10,100 ft.). En route see Chitre monastery, Maghma monastery (outer view), Holy pond with black water. Reach at Sandakphu (the highest peak in West Bengal), situated between Indo-Nepal Border. Check into hotel. Lunch, dinner and overnight at Sandakphu (11,929 ft).